Wyndham Vacation Resort Asia Pacific Wins 5 Industry Awards
Wednesday, July 22, 2015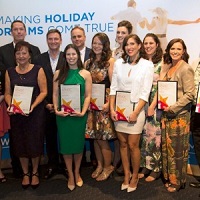 Recently, Wyndham Vacation Resorts Asia Pacific won five prestigious awards at the 2015 Australian Timeshare and Holiday Ownership Council's (ATHOC) National Industry Awards. The 24th annual awards took place on July 17th, 2015 at The Arts Centre on Australia's Gold Coast.
Members of the Wyndham Vacation Resorts Asia Pacific team were honored in three categories: corporate, resorts, and sales and marketing. Both individuals and entire teams were recognized at the event.
The awards included —
Marketing Manager of the Year:
Erin Kimmince, Marketing Manager Owner Marketing and Solutions, Wyndham Vacation Resorts Asia Pacific
Resort Manager of the Year
Suzy Berry, Resort Manager Wyndham Vacation Resorts Flynns Beach
Sales Team of the Year
Dunsborough Sales Team
Sales Performer of the Year Upgrades
Tullika Deswal, Surfers Paradise Sales Site
Social Media Award;
Kira Westwick, 'Celebrity Chef' campaign
Wyndham Vacation Resorts Asia Pacific and Managing Director, Barry Robinson shared,
"The ATHOC awards recognise employees who continuously go above and beyond to contribute to the success of the Australian timeshare industry. On behalf of everyone at Wyndham Vacation Resorts Asia Pacific, we are thrilled to have received these awards from ATHOC. They are a testament to our commitment to making holiday dreams come true."
To learn more about Wyndham Vacation Resorts, visit SellMyTimeshareNow.com/timeshares/Wyndham-Resorts/.