Diamond Resorts Completes Acquisition of Amber Vacation Club
Wednesday, April 4, 2018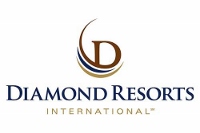 Diamond Resorts has just announced that it has acquired the Amber Vacation Club and their related assets. This acquisition adds two locations to the ever-growing Diamond Resort portfolio of vacation ownership properties. Amber Vacation Club was first established back in 1994. Today, it has roughly 13,500 owners.
Diamond Resorts will now operate Amber Vacation Club's managed resorts—Sunrise Ridge Resort in Pigeon Forge, Tennessee and Alhambra Villas and the neighboring resort of Alhambra at Poinciana in Kissimmee, Florida.
Nestled in the gorgeous Great Smoky Mountains is the Sunrise Ridge Resort. The prime location puts guests just minutes from downtown Pigeon Forge where there is ample entertainment, dining, and shopping.
Alhambra Villas and Alhambra at Poinciana reside 35 miles south of Orlando in beautiful Kissimmee. Both resorts allow guests to easily access the best attraction of Central Florida, while also providing a calming environment near sparkling lakes and creeks.
"We eagerly pursued this transaction for many reasons, including Amber's talented team of employees, loyal owner base and two quality resorts in desirable destinations," said Michael Flaskey, Chief Executive Officer of Diamond Resorts. "Sunrise Ridge Resort in Pigeon Forge adds critical mass for us in the Smoky Mountains and leverages an existing talented Diamond Resorts team in Eastern Tennessee. We look forward to significantly expanding in this market, which welcomes more than 10 million visitors per year."
In terms of changes Diamond Resorts plans to make at these properties, they will establish a sales and marketing center at Sunrise Ridge Resort and upgrade the front desks and reservations systems at all resorts. Over time, Diamond Resorts will work to make other improvements while establishing adequate operating reserves in the resort budgets.
Flaskey also commented that he feels confident that this acquisition will only enhance the vacation experience for Amber Vacation Club owners while potentially offering new opportunities to the club's employees.
Learn more about Diamond Resorts by visiting their website.